Area Attractions
Explore the Four Corners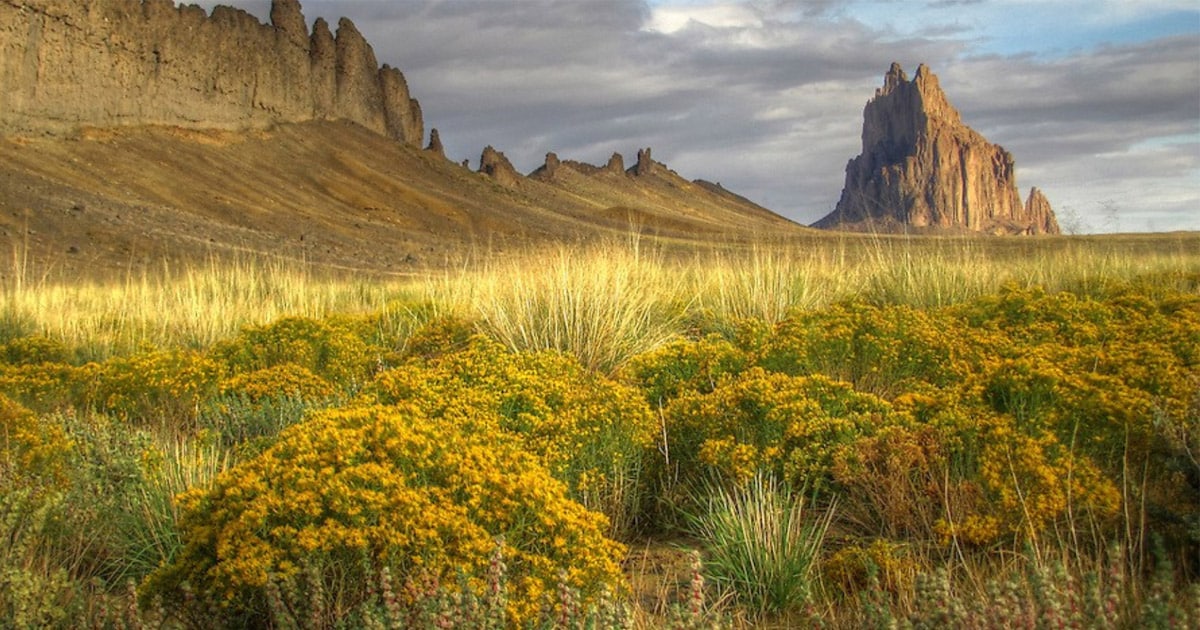 Farmington and the Four Corners boasts some amazing attractions.  Features, monuments, parks, facilities, activities, outdoor recreation resources, dining, lodging, and entertainment – we have something for everybody!
Find Links to Farmington Lodging
Start at the River Trails
Since you're here, and our primary focus is on our rivers, the river trails are a great place to start exploring!  A visit to Berg Park and a short walk down the river trail will bring you to the All Veteran's Memorial Park.  You can continue down the trail, cross the river, and walk into Animas Park, or you can start at Animas Park and visit the Riverside Nature Center.  And if you want to get the best view of the rivers, a raft trip with Desert River Guides is the way to go.  Click the images below for map locations.
All Veterans Memorial
All Veterans Memorial Plaza is located within Animas Park, along the Animas River. This memorial park is a place where all veterans can be honored and remembered.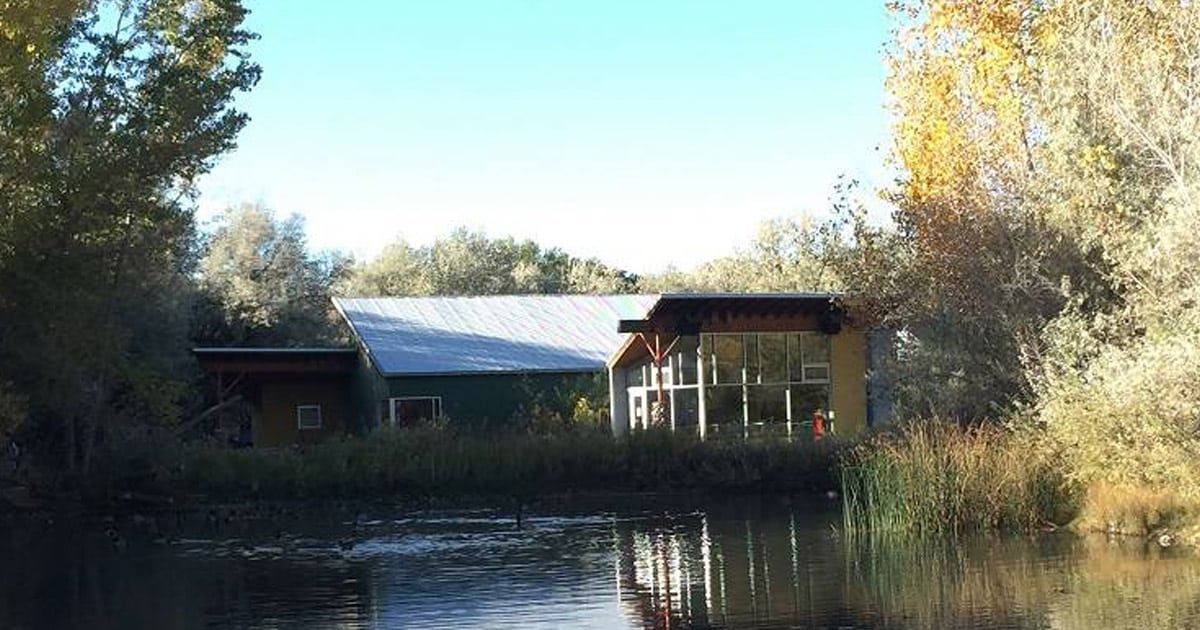 Riverside Nature Center
The Riverside Nature Center is a unique place to observe wildlife, begin a walk through the River Walk Trails and learn about local flora and fauna!
Desert River Guides
They offer family-friendly guided raft tours of the rivers in, and around, Farmington, NM and the surrounding areas.  From leisurely floats to Class 1 & 2 rapids, their raft trips are appropriate for the whole family while providing a fun day on the water!
Next up are the area's lakes offering great outdoor recreation.  Jackson Lake offers some great fishing.  Lake Farmington also offers great fishing as well as electric and non-motorized boating, a beach area, and camping.  Navajo Lake is almost 25 square miles of water and offers all kinds of fishing, swimming, boating, and other recreation opportunities along with an award-winning marina.
Lake Farmington
Lake Farmington offers outdoor lovers a variety of adventures within the city limits! The lake is open year-round for fishing and camping, and seasonally for boating and swimming.
Jackson Lake
Jackson Lake is a popular fishing, kayaking, and wildlife viewing spot with locals. The lake sits amidst 840 acres of the Jackson Lake Wildlife Area.
Navajo Lake
Navajo Lake State Park is the ultimate playground for camping, fishing, exploring, and boating with 150 miles of shoreline and 280+ days of sunshine and spectacular scenery.
If you need some outdoor recreation equipment for your lake-time activities, the San Juan College Outdoor Equipment Rental Facility offers kayaks as well as many other outdoor recreation equipment.  And, now that you've explored the rivers and lakes, try some of our other aquatic recreation facilities.  The Farmington Aquatic Center is a large, indoor facility with a large pool and kiddie play area.  Bisti Bay is an amazing aquatic playground within Brookside Park and completely packed with water activities.
Outdoor Equipment Rental
The San Juan College Equipment Rental Center offers you the opportunity to rent equipment to get you out on the trail, on the water, or in the mountains. Best of all, they offer it for the best price in the Four Corners!  The experienced OERC staff can offer great ideas for places to raft, bike, backpack or climb.
Aquatic Center
The Farmington Aquatic Center provides indoor water recreation for the whole family, year-round!
Bisti Bay
Make a splash at this one-of-a-kind water park! With a lazy river, water slides and so much more there's something fun for all ages. The unique design of this outdoor water park pairs Farmington's unique landscapes and geology with BIG FUN!
Golf balls, Discs, and a Rock Wall
Farmington boasts one of the top-ranked municipal golf courses in the country – Pinon Hills Golf Course – and it's a MUST play for any golf fan.  If you just want to work on your short game, Civitan Golf Course is a quick play to get your golf fix.  And, if disc golf is your thing, we have two amazing courses in town – one at San Juan College, integrated with a wonderful hiking trail, and one at Lions Wilderness Park.  If climbing is your thing, you'll find the San Juan College Rock Climbing Wall near their equipment rental facility.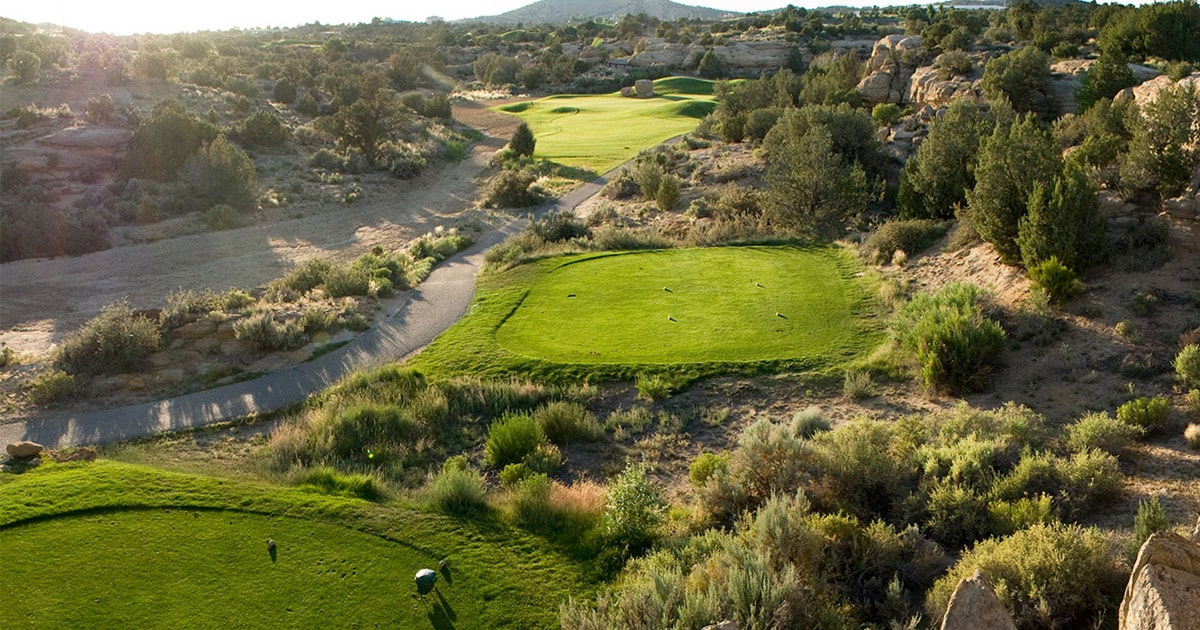 Pinon Hills Golf Course
Pinon Hills Municipal Golf Course is a must for any golfer! This scenic course was named one of the 2020 Top Municipal Courses in the United States by Golf.Com and has been voted a top course in New Mexico by Golf Advisor and Golf Digest. Test your skills at this high-desert oasis and discover what all the buzz is about!
Lions Wilderness Disc Golf Course
This unique 27 hole disc golf course sits amidst spectacular high desert terrain with endless views. This is a must see and play!
Indoor Rock Climbing Wall
One of the largest indoor climbing walls in the west, this is one rock climbing experience you do not want to miss!  Routes for beginners and experienced climbers.
If you're from out of town, a trip to the area is not complete without a visit to see these amazing historical sites.  Aztec Ruins and Salmon Ruins are extremely easy to get to from town.  Mesa Verde is a beautiful drive into southern Colorado and absolutely worth the trip – you'll never forget it.  Chaco Canyon is the site of the largest excavated prehistoric ruins in North America and is less than a two-hour drive south.  Simon Canyon offers some great ruins at the end of a great hike through the canyon, and is on the way to Navajo Lake.  If you'd like a guided tour of some of many, many ruins in the area, Black Bear Unlimited offers a Ruins Run in addition to other off-road scenic tours.
Aztec Ruins National Monument
The site is open from 8:00 am to 6:00 pm.  All trails are self-guided, with park brochures and information available on site.
Salmon Ruins
Visit Salmon Ruins and you will discover a cultural museum, Heritage Park, Journey Into the Past Tours and the San Juan County Archaeological Research Center & Library.
Mesa Verde National Park
Mesa Verde National Park is an archaeological preserve famous for its concentration of cliff dwellings.
Chaco Canyon
Chaco Culture National Historical Park, also known as Chaco Canyon, is the largest excavated prehistoric ruins in North America and is a must-see for history buffs and outdoor lovers!
Simon Canyon
The wildlife, scenery and a Navajo Pueblito found amidst these 3,900 acres of diverse canyon landscape make this a great area for day hikes.​
Black Bear Unlimited
Take their Ruins Run tour and see undeveloped Anasazi and Navajo ruins. This run can be completed by a stock vehicle, Subarus and all-wheel-drive cars will have a wonderful day on this run.
We enjoy a beautiful diversity of landscapes in the Four Corners.  Have your camera ready and be sure to take lots of photos of these amazing sights.
Shiprock Pinnacle is visible 30 to 50 miles from the peak, in almost every direction. This sacred landmark is located south of the community of Shiprock on Hwy. 491. Best viewing is west of Farmington along Hwy. 64 or south of Shiprock on Hwy. 491.
The Four Corners Monument, also known as Four Corners Tribal Park, is the only point within the United States where four states intersect at one point.  You can stand in one spot with a hand or foot in each state: Arizona, New Mexico, Utah, and Colorado.
The Bisti Badlands offers roughly 60 square miles of remote badlands and some of the most unusual scenery in the world. National Geographic Traveler listed the Bisti/De-Na-Zin Wilderness, also known as the Bisti Badlands, one of their must-visit adventure destinations for 2019! This is a bucket list vacation for every venturesome hiker, explorer, and photographer.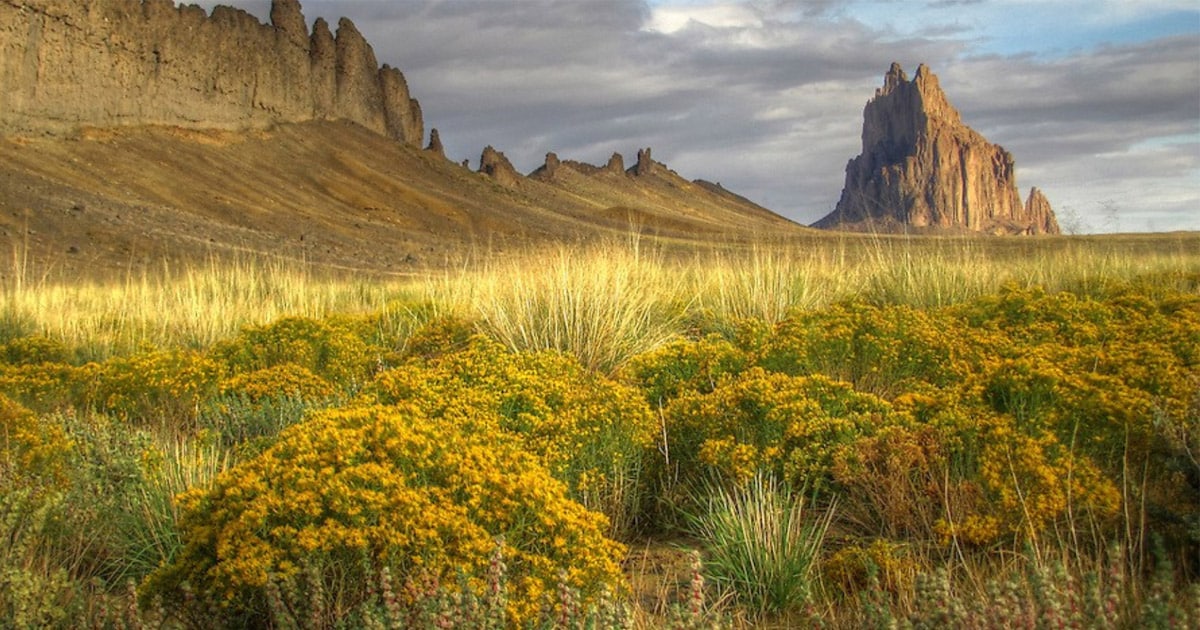 Shiprock
Shiprock Pinnacle is one of New Mexico's most iconic landmarks. This unique towering rock formation can be seen for miles in all directions. Shiprock is known to the Navajo as "Tsé Bit' A'í", or rock with wings. The peak tip rests at 7,178 feet above sea level, and is at the center of three volcanic pressure ridges that pushed the rock skyward millenniums ago.  Due to its sacred nature, climbing is not permitted.
Four Corners
This special geographical location is noted with a beautiful monument perfect for that one of a kind photo stop. Four Corners Monument is not a National Park or Monument. The park is designated as a Tribal Park.
Bisti Badlands
The Bisti/De-Na-Zin Wilderness area covers 45,000 acres of badlands just south of Farmington, New Mexico. This high desert wilderness features a vast landscape containing some of the most unique rock formations on this planet. From the Alien Egg Hatchery or Egg Factory and Hoodoo City to Manta Ray Wing and King of Wings, the unique nature of these formations is truly otherworldly.
Find Links to Farmington Lodging
Much of the information we've listed here came from the website of the Farmington Convention & Visitors Bureau.  What we've listed here only begins to scratch the surface of the many things to see and do in the area.  We highly encourage you to visit their website and book a trip to Farmington – you'll be glad you did!